Categories
Recent Posts
Submit Your Recipe!
Have a tasty and healthy recipe you absolutely love? Send us the details and we'll post it on our blog to share with everyone (and we'll be sure to give you credit).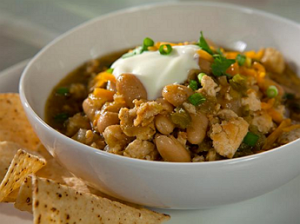 Made this for the family and it was a big hit!!  Hope you all enjoy
Make it a dip!   For a party or just a daily snack leave out the chicken, then use a hand blender, or food processor to blend the chili until it's chunky or smooth (like hummus). Serve with various bell pepper boats, celery, scooped out roma tomato boats or low fat tortillas or low fat tortilla chips.
INGREDIENTS:
4 teaspoons olive oil
2 pounds shredded chicken breasts or ground chicken (or try ground turkey too!)
1 teaspoon salt
1 clove garlic, minced
1 medium onion, chopped
1 teaspoon ground cumin
1/2 teaspoon dried oregano
1/4 teaspoon ground cinnamon
1/4 teaspoon ground cayenne pepper
2 cans (15 to 19-ounce) white northern beans (or cannellini), rinsed and drained
One 16-ounce jar mild salsa verde (green salsa)
One 14 to 14 1/2-ounce can reduced-sodium chicken broth
Fresh cilantro leaves, for garnish
Optional Extras:
1 tablespoon chopped scallions (2 calories), 2 tablespoons reduced-fat Cheddar (40 calories), low fat tortilla (50 calories, 5 restaurant-style tortilla chips, such as Tostino's (100 calories), 1 tablespoon reduced-fat sour cream (22 calories).
DIRECTIONS
In a 6-quart pot, heat 1 teaspoon olive oil on medium-high until very hot. Sprinkle the chicken with 1 teaspoon salt & pepper to taste.
Divide the chicken into 2 batches. Add the 1st batch of chicken to pot and stir until the chicken is no longer pink. Remove chicken with tongs or slotted spoon to a bowl or plate.
Add another teaspoon of oil to the pot & cook the remaining chicken as above.
After all the chicken is cooked, pour the rest of the olive oil with the garlic and onions to the pot and cook on medium heat until browned (stir occasionally).
Stir in the cumin, oregano, cinnamon and cayenne pepper, and cook 1 minute. Add the beans, salsa verde, broth and chicken, and bring to a boil. Reduce the heat to medium, cover and cook the chili for 15 minutes to blend the flavors. Garnish with fresh cilantro, or parsley if you like! Yields 8 servings.
Each serving: calories 370, total fat 18g, sodium 815mg, total carbohydrate 25g, dietary fiber 5g, protein 25g.
About the Author – dianna