Categories
Recent Posts
Submit Your Recipe!
Have a tasty and healthy recipe you absolutely love? Send us the details and we'll post it on our blog to share with everyone (and we'll be sure to give you credit).
1 medium ripe banana (mashed)
1 scoop Nutra Science Vanilla  Protein
1/4 cup quick oats
1/2 teaspoon baking powder
1 pinch salt
1 teaspoon cinnamon
1/4 cup Vanilla MuscleEgg egg whites
1 teaspoon vanilla extract
30 drops English Toffee Sweet Leaf Stevia
1/4 cup Enjoy Life Mini Chocolate Chips
6 scoops Cinnabon Wink Frozen Desserts ice cream

Instructions
Preheat oven to 350 degrees and line a baking sheet with parchment paper or non stick spray.
Combine all ingredients(except chocolate chips and ice cream) in a bowl and mix until well combined. Stir in chocolate chips until evenly distributed.
Divide dough into 12 cookies and place on cookie sheet. Bake for 7-9 minutes until edges until set.
Remove from oven and let cool completely. Once cooled, form sandwiches and place in the freezer until completely set and ready to serve.
Notes
NUTRITIONAL INFORMATION (makes 6 sandwiches): calories- 91, fat- 3 grams, carbs- 10 grams, protein- 7 grams PER SANDWICH
By Corina Nielsen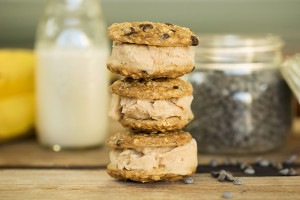 About the Author – dianna